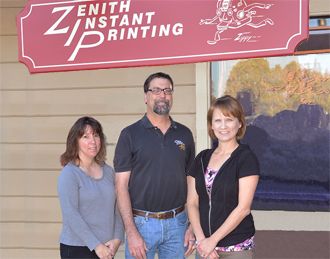 Every person at Zenith Instant Printing is committed to providing excellent customer service and producing high-quality products and services. As you work with us in the future, we're confident that you'll find this to be true. Our staff has over 100 years of combined experience, in the printing industry. Our staff turnover is extremely low, meaning we get to know you, as well as ensuring that you will be seeing familiar faces with each visit and hearing familiar voices when you call.
Staff members at Zenith Instant Printing share a strong commitment to community service, and are active volunteers in their local community.
Pictured above are (left to right) Tracy, Bill, Ron & Michele.