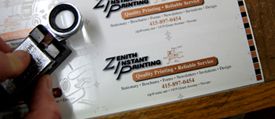 We love what we do. The passion we have for our work enables us to take ownership of our clients' projects. We constantly strive to deliver the highest-quality products possible.
There is no greater satisfaction than delivering a finished product that helps a client reach their goals and objectives. To learn more about our approach to customer service, follow the provided links for more information.
Our Mission And Promise To You
Our mission is to exceed client expectations by providing the highest-quality product possible in a timely manner. We strive to create long-lasting relationships with our clients in order to help them reach their goals and objectives.
Guiding Principles
Zenith Instant Printing has been serving the printing needs of Novato, Marin County, Sonoma County and beyond, from the same location, since 1975.
Novato's only downtown print shop, Zenith began as the "mom and pop" operation of Frances and Ben Borok. When the Boroks retired, longtime employee, Bill Vespa became the new owner. Bill began his career with Zenith as a part-time employee, while still attending San Marin High School. He learned the business "from the ground up".
"Service and quality are really the keys to our success," says Bill, noting that while technology has changed the printing business, it hasn't changed Zenith's personal touch. "Today you can order printing from our website or customers can visit us here at our office. Either way, we guide our customers through the process and give them personal assistance when making decisions".
"Zenith Instant Printing continues to change with the new technology, but our friendly reliable service never changes," Bill says. "After over 40+ years in business, people know they can always count on us."
We pride ourselves on being a complete source for all of your business communications needs. We will continue to evolve as a diversely skilled, fast-moving team of professionals ready to learn from each other and meet whatever challenges our clients may face.
We launched ZenithInstantPrinting.com to make it easier for our clients to request estimates, place orders, check proofs, or transfer files online. We hope you find it as helpful as we do.
We're proud of the strong relationships we've built in our community. Zenith Instant Printing supports and its employees volunteer in many organizations, including Rotary, local schools, youth sports, Scouting and Relay for Life.